Stewart Mader provides practical, proven advice for guiding adoption of new technology. Drawing from the architecture and urban design book A Pattern Language by Christopher Alexander, Sara Ishikawa, and Murray Silverstein, the techniques and case studies in Wikipatterns enable you to build an enduring, useful space for collaboration, whether your team is in the same room or spread around the world.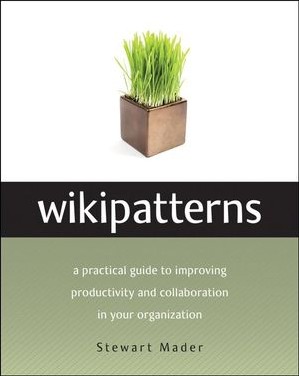 Dedication, Preface, and Acknowledgements
1. Grassroots is Best
Case Study: LeapFrog
2. Your Wiki Isn't (Necessarily) Wikipedia
Case Study: Johns Hopkins University
3. What's Five Minutes Really Worth?
Case Study: Sun Microsystems
4. 11 Steps to a Successful Pilot
Case Study: Red Ant
5. Large-Scale Adoption
Case Study: JavaPolis Conference
6. Prevent (or Minimize) Obstacles
Case Study: Kerrydale Street Football Club
7. Inspirational Bull****
Case Studies: Constitution Day, Queensland University of Technology
Conversation: Jeff Calado
Conversation: Jude Higdon
Questions & Answers
Reviews on Goodreads
Order Your Copy
Here's what people are saying about the book:
"Create an idea-sharing environment where incomplete can be linked together and from this, solutions emerge." – From the book's Foreword, by Ward Cunningham
"I'm going to recommend this without even reading it! Should be an e2.0 must-read top-shelfer…" – Susan Scrupski
"Just pre-ordered this from Amazon. Looks to be a good read and an essential tool in any E2.0 evangelist's tool kit." – Scott Gavin
"I love it when this happens, a blog I've read for ages (devoured some would say) gets published in book format. Needless to say my copy is already ordered." – Gordon McLean
Patterns & Anti-Patterns
The exercise of introducing a new technology and shifting core activities to take advantage of it offers an opportunity to examine existing processes, workflows, and ways of organizing information. People should be encouraged to find the roles and methods that best suit them, since their patterns of behavior will help shape engagement throughout the community. For example, a person who likes to train others and help them get started with the new platform is a Champion. This, along with other patterns listed, are techniques for engaging with a diverse audience to build active, sustainable participation.