In April 2019, I joined NJ TRANSIT, the largest statewide transit system in America, as the company's first-ever Customer Advocate and Chief Customer Experience Officer. As transit use grows, increasing the urgency of investment in transit infrastructure, I am working with staff throughout the company, from train crews to bus operators, mechanics to maintainers, and the staff in our offices to streamline how we present the entire NJ TRANSIT system, strengthen onboard and online customer engagement, differentiate service information from strategic communications, and share the inner workings of transit with customers. NJ TRANSIT is fortunate to have so many dedicated professionals who believe in the promise of public transit to connect our communities, enhance our environment, and strengthen our state.
Onboard Customer Engagement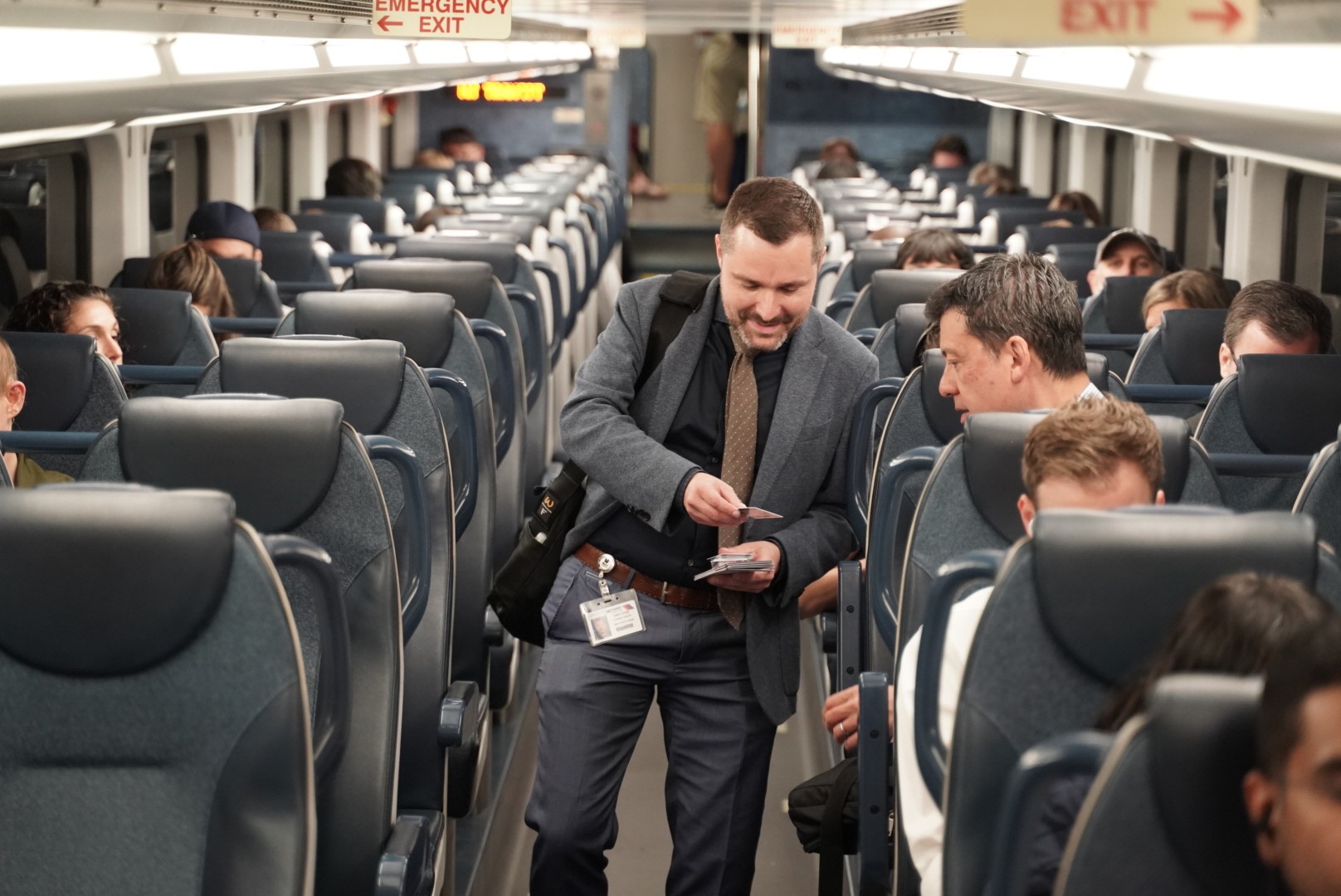 I use the system every day to commute to and from work, travel throughout the state, and discuss service with customers, listen to their ideas and suggestions, and help them be informed advocates for investment in their transit system. During Amtrak infrastructure renewal work at New York Penn Station in 2019, I rode every impacted train to talk with customers, answer questions, and help them plan their alternate travel. I also rode the 1, 22, 25, 85, 89, 119, 126 and 167 buses, as well as all eight bus routes that serve the George Washington Bridge Bus Station. In addition to visibly engaging with customers, I regularly take unannounced trips on the system as well. Insights and questions from customers, as well as my own observation and analysis, are informing NJ TRANSIT's customer experience strategy.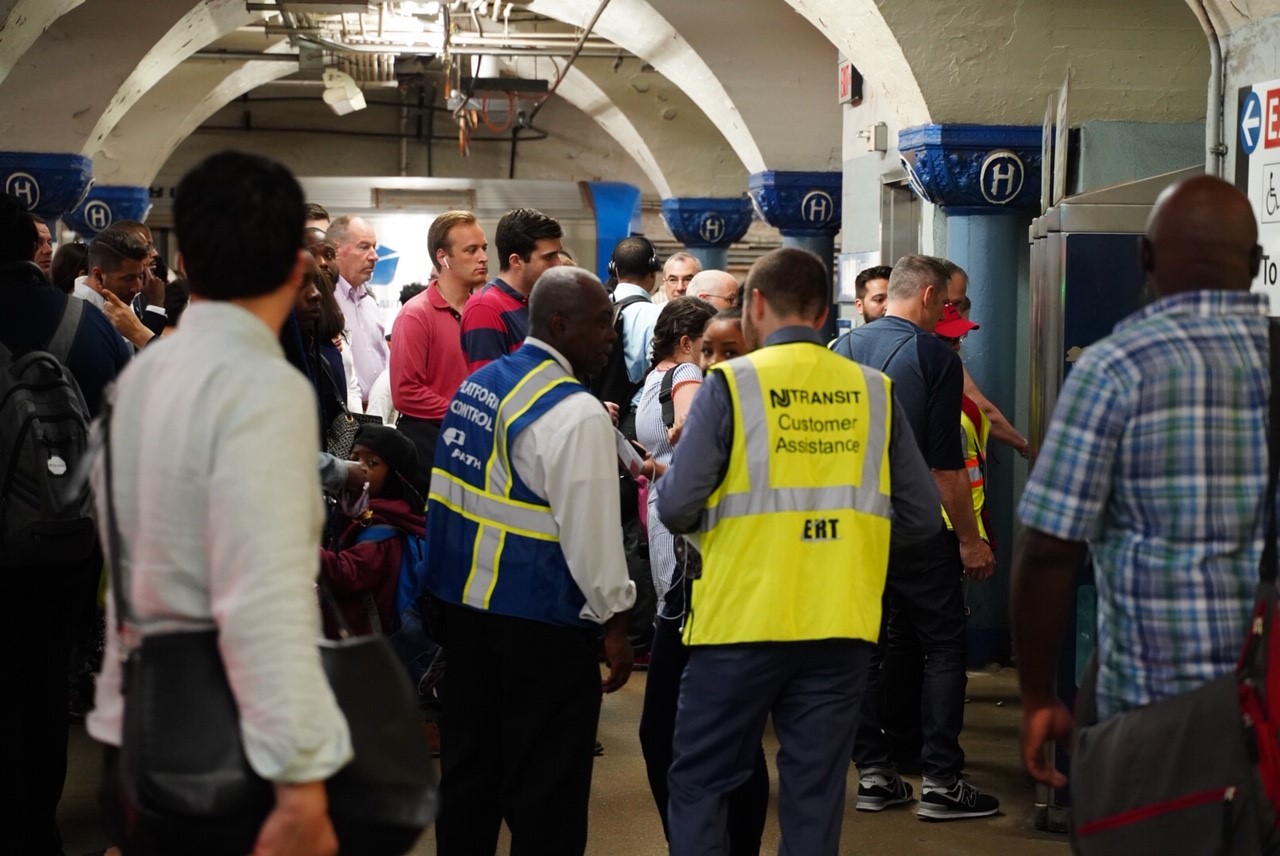 Design System
To strengthen the visual cohesion of the services we operate, we are building an updated design system to ensure consistency and recognizability at every touch point, including the app, maps, social media, signage, and the website. We started with a set of brands first introduced in 2003 for rail lines. These symbols were rendered in black or white on a background in the line color. To strengthen the association of symbols with lines, we redrew the symbols in the line colors. As digital and social media platforms increasingly rely on circular presentation for profile pictures, we enclosed the symbols in circles of the same color, which increases the visual presence of each icon, especially at small sizes. We expanded the design system beyond train lines by introducing new icons for bus service, Hudson-Bergen Light Rail, Newark Light Rail, and River Line.
Hudson-Bergen Light Rail – The iconic brown clock tower at Hoboken Terminal, the transit hub connecting Hudson-Bergen Light Rail with NJ TRANSIT buses & trains, the PATH subway, and ferry service.
Newark Light Rail – A pink cherry blossom from Newark's Branch Brook Park, which contains the largest collection of cherry blossom trees in the United States, and is easily accessible from multiple Newark Light Rail stations.
River Line – A River Line train in deep green, the color of the Camden & Amboy Railroad, New Jersey's first railroad, and builder of the right-of-way now used by the River Line.
We redesigned the service advisory posters used in stations to make use of the new design system. Posters now feature the NJ TRANSIT brand in the upper left, so that our advisories are clearly differentiated from those posted by our partner transit operators at stations where we share space. Prominent placement of the new icons in the upper right helps customers can quickly discern whether an advisory applies to their line. A standard header includes line names and service advisory dates for additional clarity.
We launched the refreshed and expanded design system together with a redesign of our primary digital and social media platforms, and a social media campaign to promote them to customers. The new njtransit.com homepage uses the individual line brands to share system status at a glance. Twitter accounts for bus, light rail, and train services feature the new line brands, new cover images that illustrate each service, and updated descriptions to let customers know each account is the place for real-time information, updates, and alerts.
Social Media & Video
We have enhanced customer experience on social media by making service-specific Twitter accounts the primary place to get real-time service updates, making it easier for customers to immediately see service status on their line. With real-time service updates on line accounts, we have refocused the @NJTRANSIT brand accounts on broader news, updates, and initiatives regarding our statewide transit system, and enhanced how we engage with customer inquiries, providing more context in our responses, and sharing the why behind what we do. For example, when customers inquire about onboard issues like heat and air conditioning, we're providing more detailed responses, and closing the feedback loop as we check with crews.
I am also using video to take customers behind the scenes of America's largest statewide transit provider. Videos include a look at NJ TRANSIT rush hour operations at the Port Authority Bus Terminal, customer guide to Hoboken Terminal, my 100 Day Report, promoting the Princeton Dinky, a day in the life of various crews, and how we prepare for winter weather.
Hoboken Terminal: Tips for a Better Trip
NJ TRANSIT Service at George Washington Bridge Bus Station
Coverage