Buy-Tap-Ride: Contactless Fares for Light Rail
When I worked for NJ Transit, I strengthened equity for light rail riders by giving them the same ability as bus and rail riders to buy digital tickets in the app. To build a better, safer experience, I made contactless fare payment for light rail a priority, and collaboratively delivered digital daily tickets for more than 82,000 daily light rail customers in seven weeks, start to finish.
The Paper-Ticket Two-Step
On NJ Transit's three light rail systems serving the New York City and Philadelphia metro areas, customers and employees have long faced a fare system that required them to purchase paper tickets. Before the introduction of contactless payment, riding the Hudson-Bergen Light Rail, Newark Light Rail, or River Line connecting Camden and Trenton required two steps for every trip. A customer needed to:
Buy a paper ticket at a ticket vending machine.
Stamp the ticket at a separate time-and-date machine to validate it for use on the next arriving light rail train.
Customers reported that using two mechanical machines—and sometimes waiting in line to do so—forced them to miss their train. Moreover, new customers often thought that purchasing a ticket was enough to ride light rail. Only when a fare-enforcement officer appeared and asked for a validated ticket did newcomers realize their error.
Customers also highlighted the potentially negative experience when mechanical validators malfunction or run out of ink. Left with an unvalidated ticket through no fault of their own, they worried whether a fare-enforcement officer would believe them or impose a fine. These factors can influence customers to consider competing alternatives like ride-hailing apps.
Accelerating the All-in-One App
I convened a cross-agency task force, with team members from communications, fare enforcement, finance, government relations, graphic design, information technology, light rail service delivery, marketing, planning, and user experience design. Since the app already offered digital tickets for bus and train service, we focused on adding the same functionality for light rail to meet the following three goals:
Strengthen customer confidence by removing concerns about hand-to-hand or shared surface contact, and eliminating anxiety about ticket validation.
Improve equity across three demographically and geographically diverse light rail systems, and among light rail, bus, and train riders.
Enhance fare payment in compliance with established policies for a turnstile-free honor system, Title VI inclusion, and ADA accessibility.
We designed the new light rail digital tickets for on-demand validation. Customers can buy as many tickets as needed, store unused tickets on their phone, and conveniently activate them as needed before each ride. Digital tickets become valid for travel three minutes after activation.
The three-minute activation countdown for digital tickets is designed to adhere to the agency's existing "proof-of-payment" policy for light rail. If a rider tried to validate a ticket only after seeing an approaching fare-enforcement officer, the three-minute countdown would convey this to the officer. By contrast, if a customer validates their ticket before boarding, the three-minute countdown would likely be fully exhausted by the time a train arrives.
Once activated, digital tickets match the validity lifespans of paper tickets: 60 minutes for Hudson-Bergen Light Rail and Newark Light Rail; and 75 minutes for River Line. These ticket validity lifespans ensure a customer can make a complete, end-to-end trip on each line with time to spare.
We also developed technical requirements for an instant validation option in which digital tickets are activated at the time of purchase. Adding this option would further increase convenience and reduce risk of fines. That's especially important as transit systems seek new post-pandemic riders who may not be familiar with existing fare payment policy. Simple fare payment welcomes everyone in the community.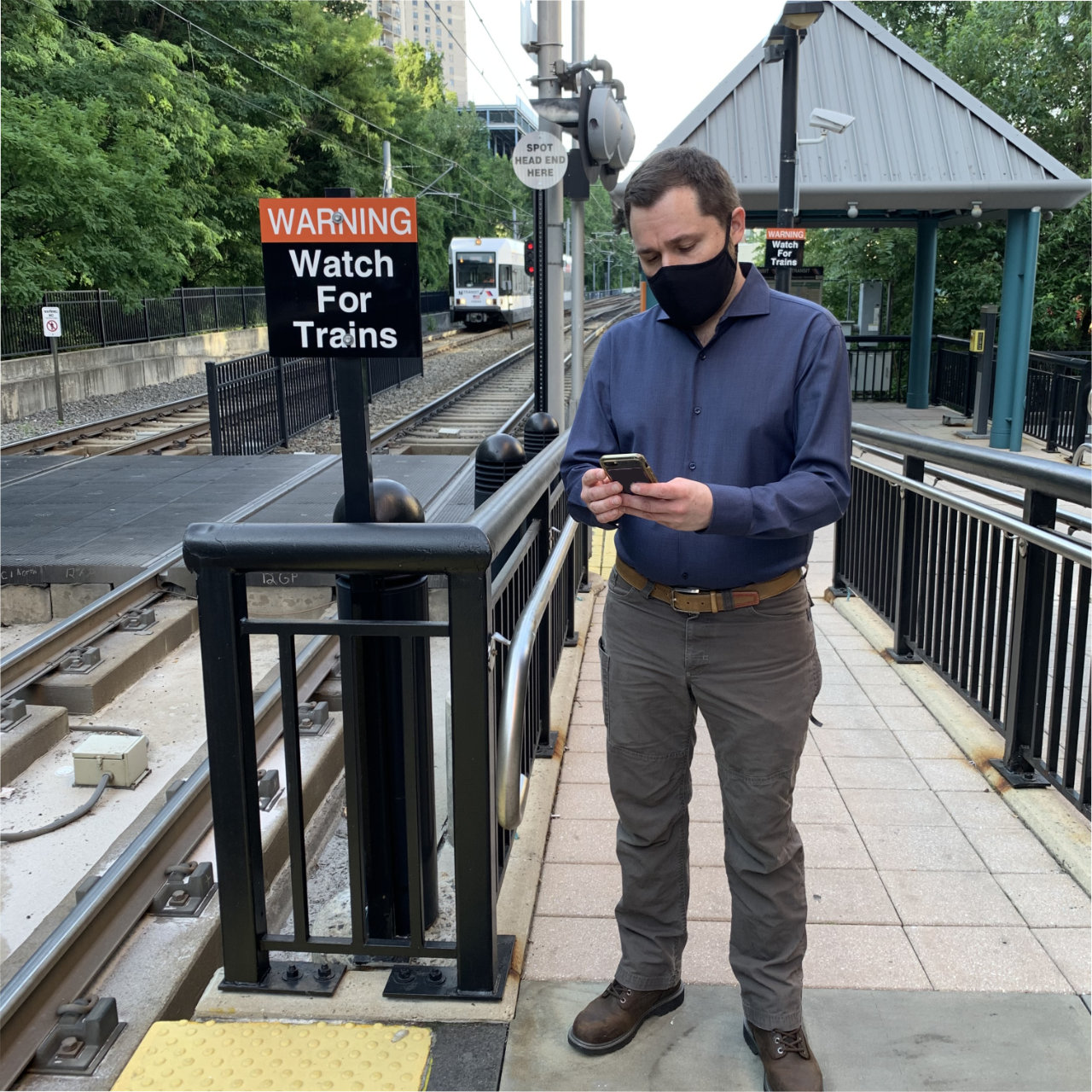 Countdown to Contactless Payment
After internal alpha testing of the new digital tickets, we expanded testing with a beta release to 1% of iOS users and 5% of Android users, then increased availability of the new app in the Apple App Store and Google Play ahead of the public announcement. Starting July 28, 2020, we shared the new contactless fare payment with customers via the website, social and news media, station signage, ticket vending machines, and onboard light rail trains.
Platform displays, ticket vending machine screens, and interior advertising cards on light rail trains let customers know that they could pay fares conveniently using the app on their phone. The interior cards inform customers in an environment where they have ample time to read the message, get the app, and familiarize themselves with the new fare payment option.
We also issued a bulletin on the new contactless payment to prepare staff who regularly interact with customers, including light rail fare enforcement officers, bus operators, train conductors, and customer service personnel.
Can-Do Coalition Delivers for Customers
When I first started using NJ Transit light rail as a customer in 2013, I saw an opportunity to improve the customer experience by upgrading the paper-based ticket system. During my five years as chair of the PATH Riders Council, my interest in streamlining digital fare payment was heightened as I worked with PATH customers whose trips connect to Hudson-Bergen Light Rail and Newark Light Rail. Once I joined NJ Transit, I built a "can do" coalition of transit professionals to deliver better fare payment.
Putting digital daily ticket purchase and validation together in the NJ Transit app eliminated the separate, two-step customer experience for light rail. It cut down on confusion and inconvenience associated with finding a mechanical time stamper before boarding. It also gave customers greater peace of mind by eliminating anxiety associated with a potential fine if, by no fault of their own, a malfunctioning mechanical validator prevented them from validating their ticket.
Contactless, digital daily tickets give light rail customers an experience that is on par with buses and trains, reassures riders with safer payment options in a pandemic, and makes transit easier to use at every step of the customer journey.