Will the Maryland Purple Line Appear on the Washington DC Metro Map?
New York & New Jersey Subway Map shows how we can give people a comprehensive view of transit options in the NYC region. In the Washington DC metro area, a similar issue will soon be under consideration: whether to include the Maryland Purple Line on the Washington DC Metrorail Map. The Maryland Purple Line is a proposed 16-mile light rail line that would link Bethesda and New Carrolton, with connections to the Washington DC Metrorail Red, Green, and Orange lines.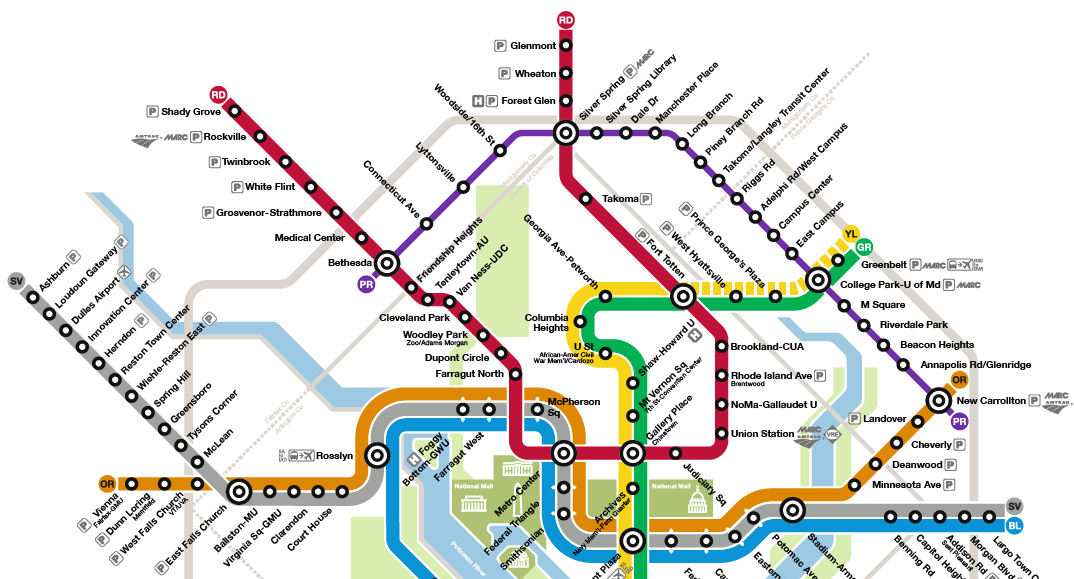 As the line moves closer to construction, Greater Greater Washington contributor Peter Dovak asks Will the Purple Line appear on the Metro map?
Today's map doesn't even show other rail services like Amtrak, MARC and VRE. They only get logos next to their respective transfer points. But far more people will likely transfer to and from the Purple Line, and it will run much more frequently than commuter rail or Amtrak. Just using icons would not make the Purple Line very visible. On smaller printed or web versions of the map, they may be difficult to spot at all. The map could display the Purple Line but in a different style.
Commenter AlanF argues for including the Purple Line to raise awareness among Metro riders and visitors:
Yes, the PL should be on the Metro map as it is high end light rail and is integrated with the Metro system with 4 shared stops. Placing it on the Metro map will raise awareness of the PL among new riders and visitors. Marking the PL with a thin line and noted as light rail, with an additional payment (depending on how integrated the PL payment system is with WMATA) is appropriate.