Verkehrsverbund: How Germany Standardizes Transit Customer Experience
The customer experience of transit starts before you ever board a bus, train, tram, or ferry. For transit to compete effectively with driving, it needs to be easy for a person to make an informed decision that transit will offer a superior experience. Over the past half-century, Germany's urban regions have harmonized their transit customer experience via the Verkehrsverbund, or transport association, a coordinating body that works with transit operators to synthesize their services and present them to the customer as a unified network.
In many cities, one of the vexing impediments to a superior customer experience stems from the existence of multiple transit providers. Each agency has developed its own methods of interacting with its customers. From the customer perspective, especially for people who travel beyond the boundaries of an individual agency's services, the resulting experience can feel disjointed.
Multiple maps make the customer do all the work to see how transit can get them from point A to point B. Discoordinated schedules lead to long waits for transfers, making a transit trip less desirable. Widely varying design standards for signage and wayfinding increase confusion for the customer, especially in unfamiliar environments, and can lead to missed connections or travel in the wrong direction. Balkanized fare payment systems require a customer to buy multiple tickets and passes for a single journey. This perfect storm of complexity can push people to opt for the perceived simplicity of a ride-hailing app, or to get behind the wheel and drive themselves.
To provide a more seamless experience, transit advocates, task forces, and elected officials tend to propose merging agencies. Legislators from the San Francisco Bay Area proposed a merger of BART and AC Transit in 1988. In 2014, a gubernatorial task force in Illinois recommended merging Chicagoland's three transit agencies, and eliminating a fourth agency responsible for regional planning, and oversight of the other three. A 2017 report by the Regional Plan Association, an advocacy group in the New York metro area, proposed merging three regional railroads into one superagency.
Merging agencies, however, is not a quick solution. It may even be politically infeasible in regions where the various agencies serve more than a single urban area, or are accountable to different state or provincial governments. Fortunately, there is a better way!
Instead of trying to change governance structures, agencies and advocates can harmonize the customer experience by focusing on the 'connective tissue'—the maps, schedules, wayfinding, and fare payment—to improve transit's ease-of-use, ability to take people where they need to go, and desirability compared to other options.
Over the past half-century, Germany's urban regions have harmonized their transit customer experience via the Verkehrsverbund, or transport association. The first such organization, Hamburger Verkehrsverbund (HVV), was established in Hamburg in 1965 to unify fare payment and harmonize schedules, and today, it serves 2.5 million daily riders in a region with 3.4 million residents. Here's how HVV describes itself:
One ticket, one pricing system and one integrated network of public transport services – these are the advantages of a transport association and this is the watchword for all our activities here at HVV, the Hamburg Public Transport Association.
HVV is not a transit agency that operates train, bus, subway, tram, or ferry service. It is a coordinating body that works with the transit operators to synthesize their services and present them to the customer as a unified network. HVV also manages a single fare payment and ticketing system on behalf of the operators, and distributes revenue to each operator. This enables operators to focus on what they do best – provide frequent, reliable, and coordinated service – while pooling their resources to provide planning and payment platforms that make the customer experience seamless.
Berlin, Germany's capital city-state, and the surrounding state of Brandenburg jointly operate the Verkehrsverbund Berlin-Brandenburg (VBB) transport association. Like HVV in Hamburg, VBB provides a unified customer experience for the U-Bahn metro, bus, tram, and ferry services operated by Berliner Verkehrsbetriebe (BVG), and the S-Bahn regional and intercity rail operated by Deutsche Bahn (DB). The transit services operated by both agencies appear together on the city's official transit map, and operate with a unified fare structure and payment system, all managed by VBB.
The fare area of the Transportation Association Berlin-Brandenburg (VBB) covers the federal states of Berlin and Brandenburg including their rural districts and the cities of Brandenburg a.d.H., Cottbus, Frankfurt (Oder) and Potsdam. Although the VBB fare area is divided into several zones, it provides one structure, a uniform assortment of tickets, the same conditions of transport and fare regulations as well as one information system.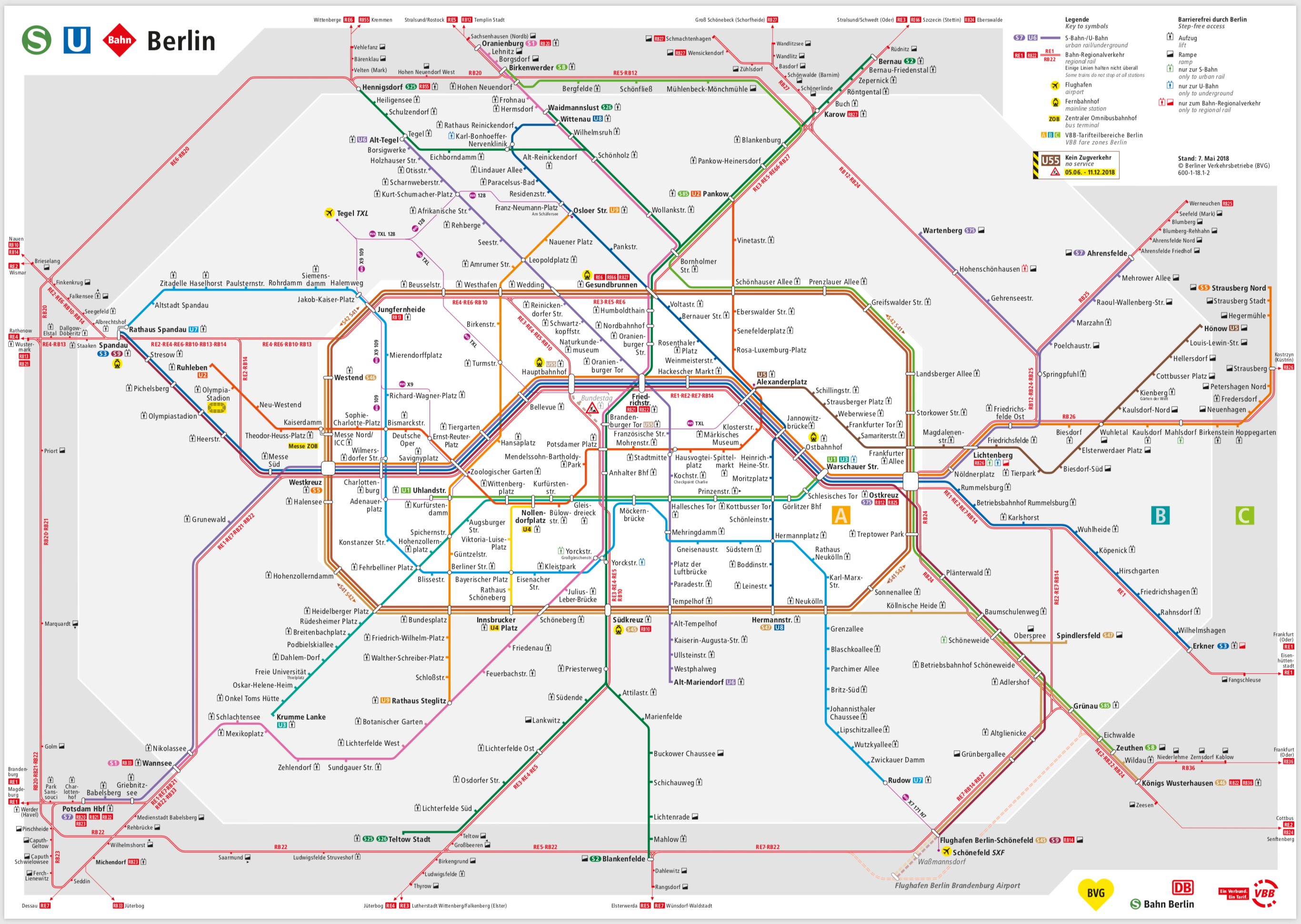 Germany's harmonized transit experience was highlighted by transit advocate, author, and former Houston Metro board member Christoph Spieler during a visit to Offenbach. Spieler noted in a tweet that the city's three bus operators use a consistent numbering system, and all accept the same tickets, an experience he likened to an alternate universe.
A few weeks ago I was in Offenbach, Germany, where there are three bus operators in the downtown transit center and they all use one consistent numbering system and they all take the same tickets. It's like some odd alternate universe. pic.twitter.com/mfPbuPkJ7f

— Christof Spieler (@christofspieler) August 15, 2018
No need to leave our universe, or even Germany, for that matter. The harmonized transit that Spieler experienced is the work of Rhein-Main-Verkehrsverbund (RMV), the transport association of the Frankfurt metropolitan area, and the third-largest verkehrsverbund in Germany. The high degree of collaboration between agencies serving the same urban region appears to derive from the German concept "Organisation vor Elektronik vor Beton".
In the German-speaking world, there's an old saying about transit planning: Organisation vor Elektronik vor Beton, or organization before electronics or concrete. With limited resources — and resources are always limited — transit agencies should exhaust all of the cheapest fixes before heading toward the more expensive "concrete" options like digging new tunnels and laying more track.
Can this approach work outside Germany, perhaps in the large, complex urban region anchored by New York City? Like some of Germany's urban regions, the New York metro area spans multiple political boundaries, stretching across portions of New York, New Jersey, and Connecticut. This helps explain why three distinct transit agencies serve the region.
The Metropolitan Transportation Authority (MTA) operates subways and buses in New York City, and the regional railroads serving areas north and east of the city, as far away as New Haven, Connecticut. New Jersey Transit operates west of New York City, and is the largest statewide transit agency in the United States. The Port Authority of New York and New Jersey was established by the US Congress in 1921 as a bistate agency (the first of its kind in the country) to manage the region's maritime ports. Over the past century, it grew to manage the region's airports, bistate river crossings, bus terminals, and the Port Authority Trans-Hudson (PATH) subway connecting the urban hubs of the region, including New York City, Jersey City, Hoboken, and Newark.
In 2015, I published the New York & New Jersey Subway Map as a proof-of-concept to demonstrate how a single map could give people a comprehensive, harmonized view of the transit options available throughout the region. It is based on the design of the New York City Subway Map, one of the most recognizable transit wayfinding tools in the world, and incorporates subway, light rail, regional and intercity rail, and ferry services. Tens of thousands of riders now use the New York & New Jersey Subway Map to help them navigate the NYC metro area.
Producing customer experience elements that incorporate services provided by multiple agencies requires political, cultural, and organizational sensitivity, because each agency is naturally concerned with ensuring its services are accurately represented, protecting its identity, brand, and reputation, and minimizing potential confusion about the elements of the customer experience that it doesn't directly control. Even the colors on a shared map can be a challenge if the participating agencies' graphic standards have individually developed similar – or overlapping – color schemes.
The Verkehrsverbund model shows us how agencies can strengthen their 'connective tissue' by working together to harmonize maps, customer information, fare structure, and ticketing, while still maintaining each agency's culture, history, and responsibility to those that govern it. Joining together on the customer experience is the best way for agencies to make transit appealing to new and existing customers alike.
You likely have other examples of innovative collaboration by transit agencies. Please share them by tweeting to @StewartMader. I look forward to seeing and sharing examples we can use to make the strongest case possible that connectivity, rather than costly, impractical consolidation, will best retain current customers and attract new ones to our transit systems.
Photo Credit: LoboStudio Hamburg.