Look around the next time you're in a coffee shop or airport terminal. You'll see lots of laptops, cameras, and cell phones with nothing more than the manufacturer's name as an identifier. By contrast, the iconic apple adorning the Mac, iPod, and iPhone is instantly recognizable.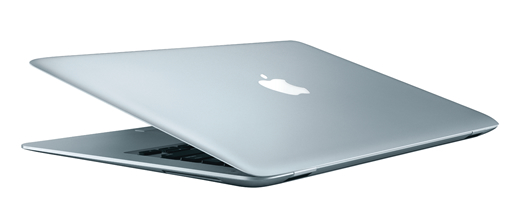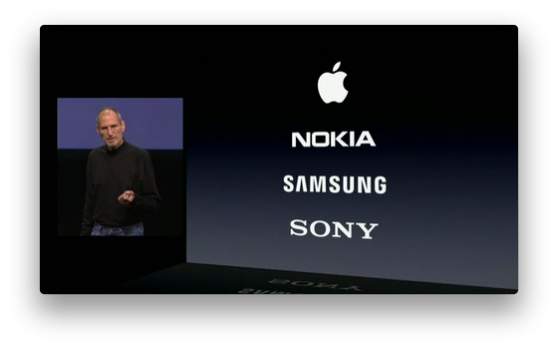 In this photo, Apple CEO Steve Jobs explains that Apple is a larger mobile devices maker than each of the companies listed on this slide. Note that the Apple logo is the only graphical logo – the other only contain text. A text only logo – or logotype – expresses very little about the personality and character of the company, and gives people little to identify with.
Even though the Apple logo contains no text, people instantly associate it with the electronics maker, and it contributes substantially to the company's strong reputation for industrial design. NeXT, the company started by Steve Jobs after he left Apple in the 1980s, used a logo designed by the legendary Paul Rand:
Jobs describes both as examples of the logo "jewel" – a symbol that could be used on products independently of the company name:
The Air Canada logo is almost as iconic as the canadian flag:

Lately, the airline has been using the logo jewel by itself in online advertisements, a sign of confidence that the symbol itself is so strongly known that it can stand without the logotype:
Airline Jewel Logos (Museum of Flight) – Many airline logos are instantly recognizable jewels, including Aer Lingus, Delta, Korean Air, Lufthansa, and United.
WWF Panda Logo (PDF) -The World Wildlife Fund's panda logo is one of the most iconic jewel logos associated with a charity organization.
What's Next for the Big Financial Brands (Harvard Business School Working Knowledge) – HBS Profesor John Quelch writes about the future for several financial brands, including AIG, RBS, and Merrill Lynch after the 2008-2009 global financial crisis.
(Logos used in this article are registered trademarks of their respective owners, and are used in an editorial capacity. NeXT logo image courtesy NeXTComputers.org; NeXTstation brochure image courtesy NeXT Computer Historical Site.)