Hudson Place: A New Public Plaza at Hoboken Terminal
Imagine stepping off your bus, ferry, or train at Hoboken Terminal and onto a new public plaza at Hudson Place. From spring to fall, you can shop at the downtown farmers' market, and enjoy expanded outdoor seating at adjacent restaurants and bars. A pop-up holiday market brings cheer to the cold winter months. Year-round, Hoboken has a safe, and welcoming civic space at its namesake transit hub.
It's possible, if Hudson Place is closed to traffic between Hudson and River Streets. Creating the Hudson Place public plaza improves safety for the tens of thousands of pedestrians who use mass transit at Hoboken Terminal, and creates a better environment for the local businesses that depend on foot traffic. It improves transit access and traffic flow on the surrounding streets, provides safer space to drop off and pick up transit riders, and increases bicycle and vehicle parking. It is the result of a yearlong study of traffic patterns, pedestrian volumes, sidewalk infrastructure, and development plans for southeast Hoboken.
Hudson Place Today: Congested, Dangerous, and Inefficient for Everyone
Despite being one of the streets most heavily used by pedestrians, the crosswalks at Hudson Place are often blocked during morning and evening peak travel periods, because the current configuration of Hoboken's street grid in the blocks surrounding Hoboken Terminal feeds significant vehicle volume onto Hudson Place.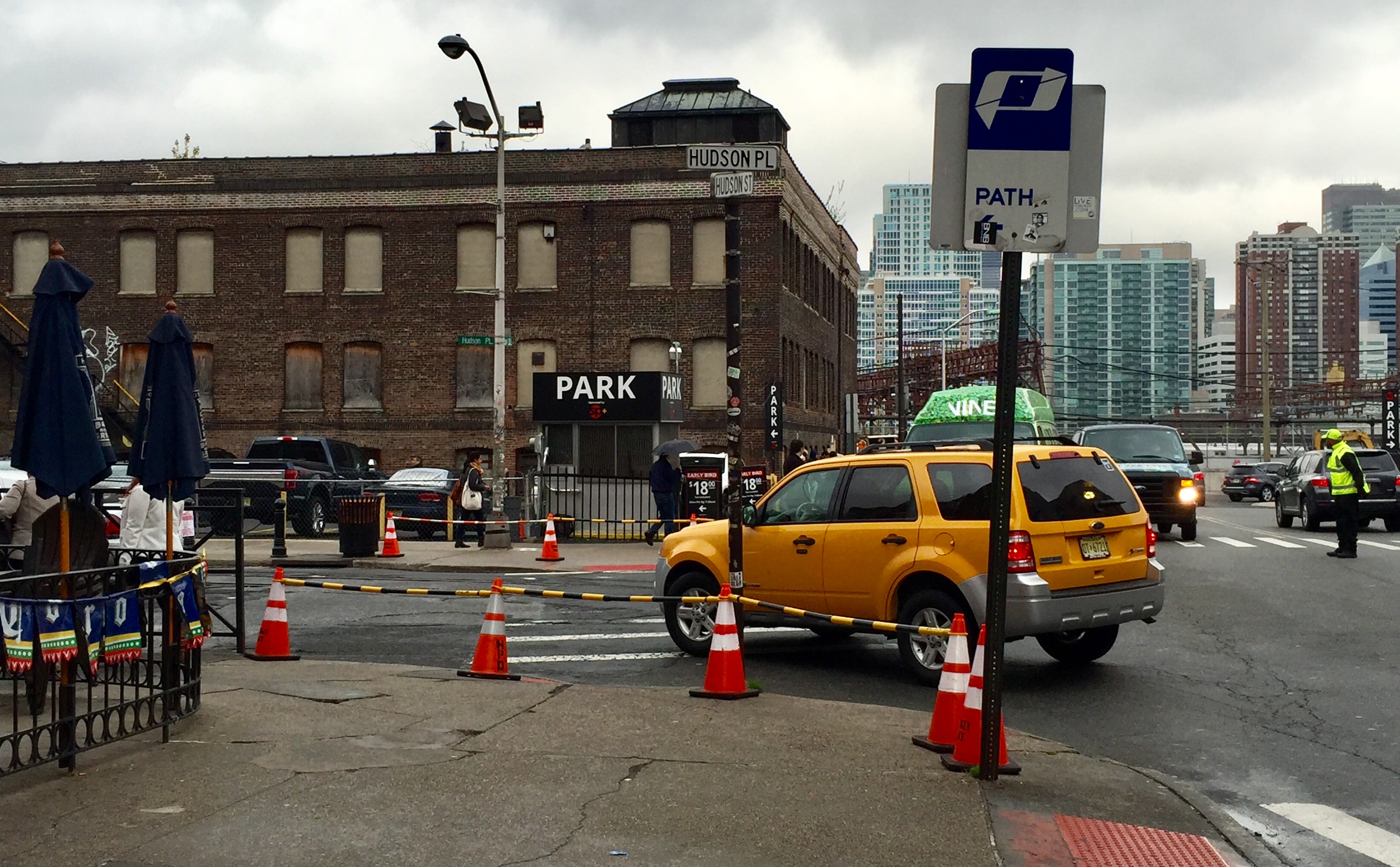 Traffic currently flows one way southbound on Hudson Street between Newark Street and Hudson place, and both ways between Hudson Place and Observer Highway. This pattern funnels both northbound and southbound traffic onto Hudson Place.
The heavy flow of cars, trucks, and buses squeezing onto this small urban street creates heavy congestion, significant danger for pedestrians, and frustration for drivers who are funneled through a bottleneck when their destination may be far from Hoboken Terminal. The situation is so dangerous at morning and evening peak periods that traffic safety officers are deployed to manage traffic. Police tape and barriers are also used to block key crosswalks, but these measures are the wrong solution to the issue, and they do not reduce the danger to pedestrians.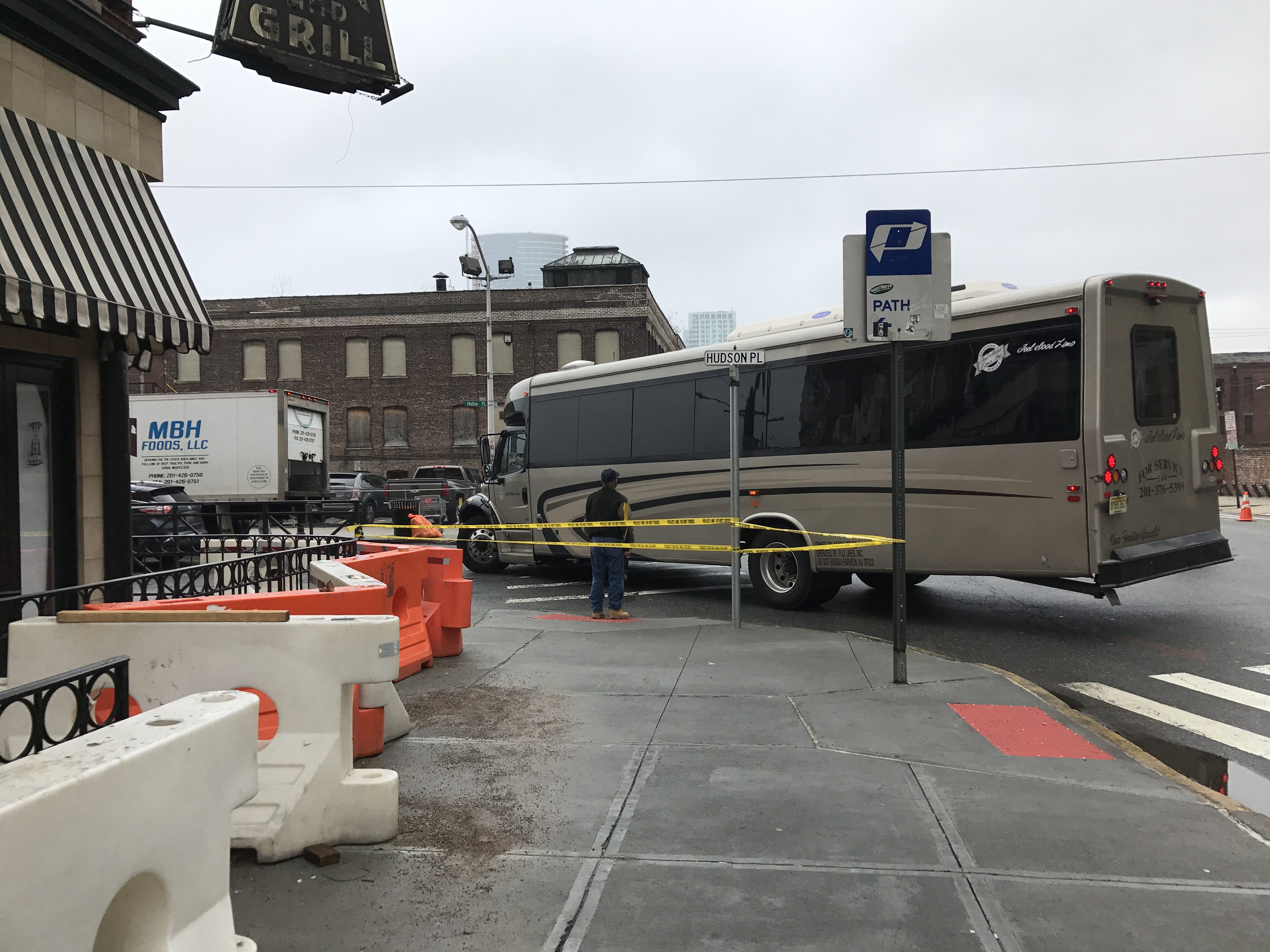 Proposed: Hudson Place Public Plaza
Under our plan, Hudson Place between Hudson and River Streets is closed to vehicles, and becomes a pedestrian plaza. This creates new civic space for community activities in a high-visibility, high-foot-traffic area. For instance, the downtown Farmers' Market could move from its current location along the east side of Washington Street between First Street and Observer Highway to the new Hudson Place, giving thousands of pedestrians easier access to the market stalls, which benefits the local farmers whose livelihoods depend on these markets.
Metal pedestrian barriers currently separating the north sidewalk from Hudson Place could be removed to facilitate smoother pedestrian flow to and from Hoboken Terminal, reduce sidewalk congestion, and improve customer flow for businesses on the street, like Texas Arizona Grill, Dunkin Donuts, and the Hotel Victor Bar & Grill.
The bike rack on the west side of Hudson Street at the intersection with Hudson Place could be moved to the new Hudson Place Pedestrian Plaza. This would create space for new on-street parking spaces or shuttle bus drop-off/pick-up on the west side of Hudson Street.
Newark Street between Hudson and River streets becomes two-way, so that drivers traveling on Hudson Street can access Washington Street, Hoboken's central business, dining, and retail district, or River Street, which houses the W Hoboken hotel, and a growing number of corporate offices and headquarters including Jet.com, Marsh & McLennan, Newell, Octapharma, Pearson, Thomson Reuters, and Wiley.
River Street between Hudson Place and Newark Street becomes two-way, to provide access to Hoboken Terminal for emergency vehicles, business deliveries, and taxis using taxi stand on Hudson Place east of River Street. River Street is already two-way on every block except between Hudson Place and Newark Street, so this change makes traffic flow consistent on the entire length of the street.
Hudson Street becomes one-way northbound between Observer Highway and Newark Street, which moves traffic flow one block north of Hoboken Terminal. On-street parking on Hudson Street would trade places with the drop-off area, and move to the west side of Hudson Street between Hudson Place and Observer Highway. This would place on-street parking entirely on the west side of Hudson Street.
The shuttle bus stop on the east side of Hudson Street between Hudson Place and Observer Highway would remain as-is, while the stop on the west side would move to the east side between Hudson Place and Newark Street. By placing the drop-off/pick-up areas entirely on the east side of Hudson Street, Option A reduces congestion and conflict between private vehicles and shuttle buses, and enables transit users to exit shuttle buses and use the new pedestrian plaza to reach transit options, further reducing pedestrian/vehicle conflict and congestion.
Under an alternate option, Hudson Street becomes one-way southbound between Hudson Place and Observer Highway, and northbound traffic is no longer permitted to travel on Hudson Street from Observer Highway to Hudson Place. The shuttle bus stop is available on the west side of Hudson Street for two blocks between Newark Street and Observer Highway. On-street parking is available on the east side of Hudson street for two blocks between Newark Street and Observer Highway.
This alternative would preserve the current southbound traffic flow of Hudson Street for its entire length, but the disadvantage is that people must cross Hudson Street to move between shuttle buses and the transit hub, which may not reduce congestion and conflict as much as the first option.
Why Close Hudson Place to Traffic?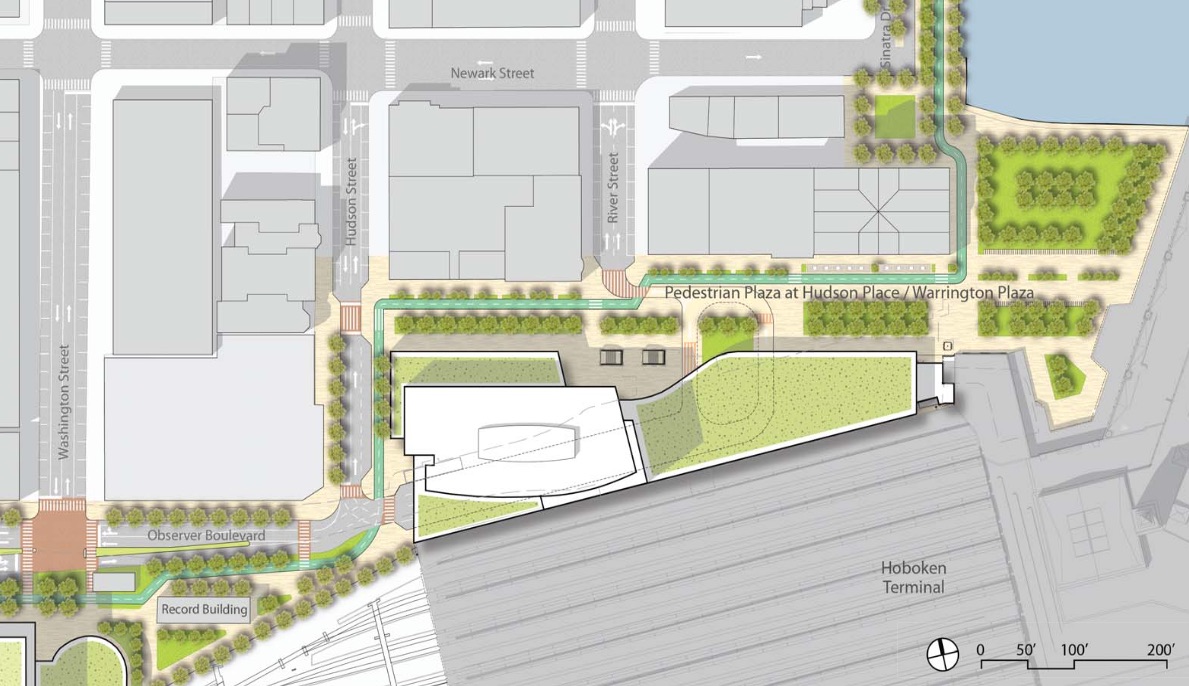 It's Already Approved by the Hoboken City Council
In December 2014, the Hoboken City Council approved the Hoboken Terminal and Yards Development Plan that would bring 2.1 million square feet of new mixed-use space to the city's southern edge, adjacent to the terminal and rail yards. Included in the plan approved by the city council is the closure of Hudson Place entirely to traffic, which would create a two-block long pedestrian plaza.
Hudson Place is the Pedestrian Threshold Between a City and its Transit Hub
74% of Hoboken/Jersey City ferry riders reach their boats by walking or another form of transit, and only 19% arrive by car, according to a study conducted by NJ Transit and the North Jersey Transportation Planning Authority (NJTPA). Hudson Place is the threshold between Hoboken Terminal, the only transit hub in the US to combine five modes (regional rail, light rail, subway, bus, and ferry), and its namesake city of 53,000, which has the highest rate of public transit use in the nation. PATH weekday ridership statistics from February 2016 show that an average of 28,209 people entered PATH at Hoboken Terminal. An average of 15,101 weekday riders use New Jersey Transit at Hoboken Terminal.
Emergency Response Plans Have Included Closure of Hudson Place to Traffic
In March 2016, when a New Jersey Transit rail strike seemed a distinct possibility, the City of Hoboken developed a traffic contingency plan that would have closed most streets surrounding Hoboken Terminal to traffic, including Hudson Place.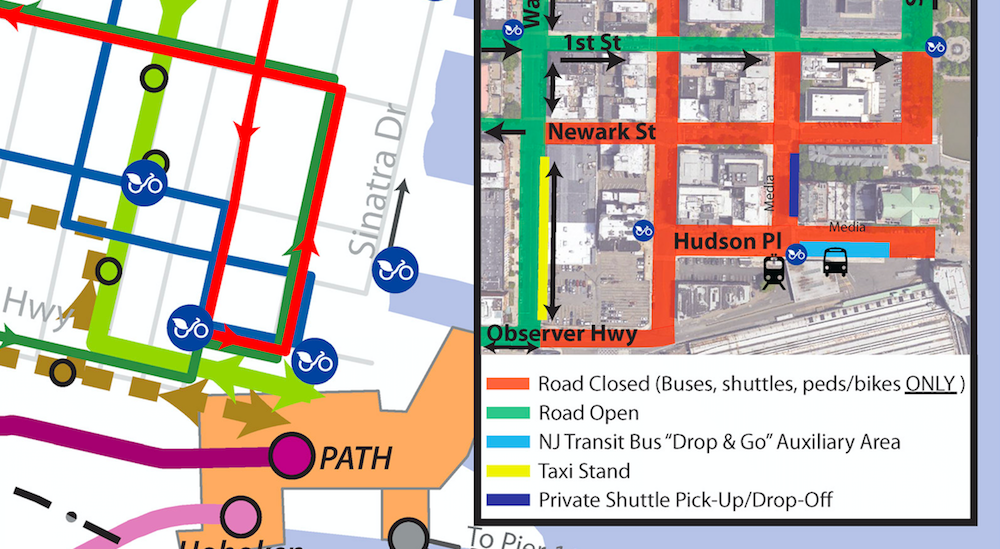 To facilitate increased bus traffic and temporary staging areas for bus loading in the Hoboken Terminal area and for the safety of the anticipated increase in pedestrian traffic, only buses, registered private shuttles, and emergency vehicles will be permitted to enter the Hoboken Terminal area. Taxis and personal vehicles will not be permitted. Vehicles will not be permitted to travel east of Washington Street at Observer Highway, south of 2nd Street on Hudson Street, or south of 1st Street on River Street. First Street will remain open.
It Mitigates Traffic-Safety and Terrorism Concerns
A series of incidents involving drivers that have killed and injured pedestrians in public spaces reminds us that vehicles should be restricted in areas with a very high concentration of pedestrian activity. On July 14, 2016, a truck was driven into crowds along the Promenade des Anglais in Nice, France, killing 86 people and injuring 434. In a similar attack on December 19, 2016, a truck was driven into a Christmas Market in Berlin, killing 12 people and injuring 56.
While those two examples were deliberate terrorist attacks, pedestrians face danger from drivers who are intoxicated, distracted, or unfit to drive. In the 2017 crash of a pickup truck into Mardi Gras revelers in New Orleans, the driver was alleged to have a blood-alcohol level well above the legal limit. In 2003, an 86-year-old man drove through a farmers market in Santa Monica, CA, killing ten people and injuring 63. Restricting vehicles from spaces with a high concentration of pedestrian activity, especially those with regular patterns of pedestrian activity, reduces the risk of an accidental tragedy, as well as the attractiveness of these areas as soft targets for terrorist attacks.
The Planning Process for Hudson-Bergen Light Rail Recommended a Hudson Place Pedestrian Plaza
The 1996 Final Environmental Impact Statement (EIS) for the Hudson-Bergen Light Rail called for the new light rail system to "traverse a curve connecting the south end of River Street with the east end of Observer Highway". This curve contains Hudson Street and Hudson Place, and the EIS also called for a "pedestrian plaza on the south side of Hudson Place". The EIS also specified "River Street between Newark Street and Hudson Place would be closed to all traffic. This entire section of the street would be reconstructed including the sidewalks (i.e., building face to building face) to accommodate the LRT guideway, passenger platforms, and protective canopies. The passenger platforms at this stop would be an extension of the sidewalks…The pedestrian areas of the LRT stop and contiguous sidewalks would be integrated with an expanded pedestrian plaza surrounding the Hoboken Land and Improvement Company Building that ties into the Ferry Plaza." "The integration of the passenger platforms and sidewalks would create a new focus on pedestrian activity and provide additional space for the outdoor restaurants located on the west side of River Street. The new pedestrian orientation of this block would allow a more leisurely appreciation of the buildings in this part of the district."
It's Good for Business, and Safer for People
In New York, under transportation commissioner Janette Sadik-Khan, the Department of Transportation (NYC DOT) demonstrated that tactical urbanism—sometimes with nothing more than strategically placed traffic cones, planters and rock bollards—is a low-cost and quick way to jumpstart much-needed changes and improvements. For example, the DOT's pedestrian and traffic flow improvements along Broadway from Columbus Circle to Herald Square, including the conversion of Broadway in Times Square to pedestrian-only space between 42nd and 47th Streets, resulted in significant safety improvements, including a 40% decrease in pedestrian injuries, and 63% decrease in injuries to drivers and passengers. Air pollutants associated with traffic decreased as well, including a 63% drop in Nitrogen Oxide, and 41% decrease in Nitrogen Dioxide, likely due in part to reduced vehicle idling, thanks to a 17% increase in traffic flow. These improvements helped increase satisfaction with the area to 74% in 2010, vs. 43% in 2007, before the changes were made.
Taking out the five Broadway blocks and pedestrianizing them flew in the face of all the thinking: Traffic would back up to Albany, and so on, which didn't happen. And it immediately filled with pedestrians. So you can design streets where the space is shared. Times Square's not exactly my favorite place in the world, but it spawned the city's plaza program. That is where you can have a real impact on the social capital of a city. If you look at Astor Place, where all sorts of things are going on, creating plazas and widening sidewalks, it's transformative. There's so much potential all across the city, and it's good for the local economies, too. -David J. Burney, Former commissioner of design and construction; Pratt architecture professor
Streetsblog reports on the economic benefits from plazas built throughout the city by the NYC DOT:
Dan Biederman, the head of the 34th Street Partnership and the Chelsea Improvement Company, called the plazas in his districts "hugely successful." If the businesses he represents were suffering, he said, he'd know. "I'm not hearing complaining anymore," he reported. Traffic flow and loading work fine, he said, while the pedestrians who actually shop are far safer.
Alexandria Sica of the Dumbo Improvement District explained how much the two plazas in her neighborhood have done for business and for community. The arch under the Manhattan Bridge, which used to be used for DOT storage, has become a "place for a casual lunch meeting, neighborhood stoop sales, public art and exciting community events," she said. Next to the Pearl Street triangle, said Sica, three new businesses have opened despite a rough economic climate.
Michael Kimmelman, architecture critic at the New York Times, says public service ought to be the highest priority for public spaces:
As with the rest of the public realm, the priority ought to be public service. Ms. Sadik-Khan is right: Improving public space doesn't always take much. It's good for business. It's good for people. It's common sense.