Style, Not Stigma: After Mandates, Make Masks An Easy Choice on Transit
Published in Mass Transit – June 3, 2021
"I like the privacy granted by a mask." That's how one person characterizes their choice to continue wearing a mask, in response to a poll I conducted on covering your face after COVID-19. Two-thirds of respondents to the poll say they plan to continue wearing a mask on transit, either all the time or during flu season, even after mandates are lifted.
Although COVID-19 put us face-to-face with widespread mask use, people's motivations for mask-wearing go beyond personal protection from getting sick. "I'm hoping we've normalized protecting others with masks outside COVID," says another respondent to the poll, who cites mainstream use of masks in Asia as a model. Shayla Love writes in Vice that people with young families may maintain masking until children are vaccinated.
Marie Solis writes in Jezebel that some women prefer to keep wearing masks because they help deflect unwanted male attention. Solis says masks also give wearers a break from emotional labor–the obligation to constantly project a positive demeanor in professional settings. "The mental and emotional toll of the last year," says Love, is another reason "people are going to have some feelings around transitioning back to a less cautious way of life."
How should transit agencies handle this transition? For now, masks are still required. Although the CDC announced May 13th that "fully vaccinated people can resume activities without wearing a mask", the federal mask mandate for travel, which includes transit, continues until September 13.
As we prepare to move past mask mandates, Laura Koprowski, Deputy Chief Executive Officer of the Toledo Area Regional Transit Authority (TARTA), says it is important to make sure there isn't a stigma around masks on transit. Here are three ways agencies can ensure a smooth mask transition–from obligation to option.
1. Introduce Messages that Respect Mask Choice
Onboard MARTA, the police officers who protect Atlanta's public transit system have successfully employed an educational approach to the federal mask mandate. Officers offer masks, educate customers on the availability of masks on transit vehicles and in stations, and "use their best customer service skills to gain compliance willingly" says Deputy Chief Pearlie McKinzie.
To minimize the risk of mask-related conflict after mandates are lifted, channel MARTA's educational approach. Introduce messages that normalize and mainstream mask-wearing. The State of Respect, a colorful poster campaign commissioned by New York's MTA to promote mask wearing during the pandemic, can be repurposed as a post-mask-mandate reminder to respect people's reasons for continuing to wear a mask.
2. Support Seasonal Masking
"Keeps you warm and no flu!" That's how another respondent to the poll characterizes "an easy choice" to wear a mask in winter. Masking in winter during the pandemic had an unexpected benefit: it significantly reduced influenza outbreaks. Flu-related hospitalizations during the 2020-2021 season were the lowest since routine data collection began in 2005, and just one-tenth the rate seen during the low-severity 2011-2012 flu season, according to the CDC. That's because masks "help curb the spread of flu [and] other respiratory viruses [that] are transmitted in similar ways," says Dr. Ellen Foxman, an immunologist at Yale University.
Because we've come through the most recent season with so few people getting the flu (and did you even get a head cold this winter, or spring allergies?), some transit riders are likely to see future flu seasons as prime time to protect themselves with masks, and improve their overall comfort. In that vein, provide seasonal messages that convey the benefits of optional mask-wearing to protect from getting sick, and enhance health.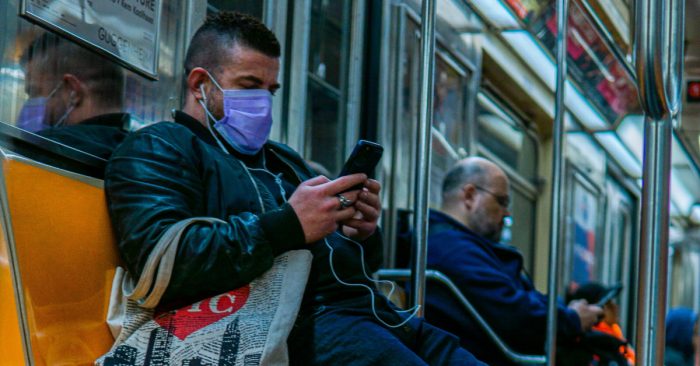 3. Make Masking Easy–and Fashionable
Since the start of the pandemic, transit agencies have installed dispensers with disposable masks on buses and trains. In the San Francisco Bay Area, AC Transit dispenses disposable masks at the front of buses, right near fareboxes. The dispensers help customers who may have forgotten to bring a mask, need a fresh mask, or prefer to double-mask for added protection.
After mask mandates end, continue to make disposable masks available free-of-charge. That will signal to all customers that mask-wearing is an acceptable and supported option.
Mix pop-culture fashion with your routes and rails. Sell masks alongside socks, t-shirts, hats, and other transit-branded items. Vancouver's TransLink sells reusable, branded masks online in several styles and sizes for adults and children.
Continued Flexibility Will Accelerate Ridership Recovery
Throughout the pandemic, transit agencies have adapted in ways that show creative thinking, flexibility, and willingness to try new approaches. For example, this spring more than 550 transit agencies in 48 states stepped up to ensure equity in access to COVID-19 vaccines, by providing free rides to vaccines, hosting vaccine clinics at transit hubs, and using transit vehicles as mobile vaccination clinics. The new, positive narrative created by this success paves the way for a new normal in which agencies encourage a culture of respect surrounding mask choice.
Image Credits: Marc A. Hermann/MTA, Linpaul Rodney on Unsplash; Metropolitan Transportation Authority; TransLink.
Stewart Mader works with agencies and policy makers to build better transit, from advocacy to operations, apps to maps, and wayfinding to payment. He previously served as the first Chief Customer Experience Officer for NJ Transit's 270 million annual passenger trips, and guided customer experience for the Port Authority of NY & NJ's 80 million annual transit riders as Chair of PATH Riders Council. His insights appear in Mass Transit, Mobility Lab, The Philadelphia Inquirer, and other leading publications.