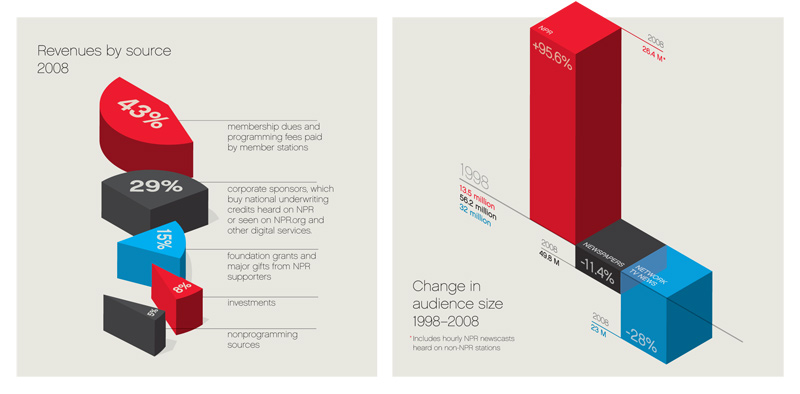 Anya Kamentz looks at NPR's unprecedented growth from 1998-2008, while newspapers and network TV news have seen steady declines:
That intimate, knowing voice in your ear is just one of several characteristics of public radio that adapt shockingly well to a world of information overload. Another is its lower cost, which is helped by the near-absence of a star system or marketing budget. ("There are TV news anchors whose salary is three times the budget of Morning Edition," says veteran VP for news Ellen Weiss.)
Novel concept: when you don't have blowhard TV "personalities" hooting & hollering, streaming the crocodile tears, or outright lying, news is worth paying attention to. What's more, NPR still does serious journalism:
Combine the personal touch with the patience to do serious explanatory journalism, and you get one of NPR's major editorial triumphs of the past year: "The Giant Pool of Money," an hour-long episode of This American Life about the financial crisis first broadcast in May 2008.

NPR business reporter Adam Davidson and TAL producer Alex Blumberg coaxed global economists into breaking down terms such as derivatives, tranches, short selling, and credit swaps. They used vivid narrative and humor to bring these stultifying concepts to life. You hear from guys like Glen Pizzolorusso, who spent his days approving "liar loans" and his nights at Marquee with Christina Aguilera. Throughout, Blumberg and Davidson's frank dismay at the chicanery comes through.
This is extremely similar to what works so well for The Daily Show. Jon Stewart and his team use humor as a foil, but the thoroughness of their research is clear in pieces like the recent takedown of CNBC:
Jon Stewart's act of journalism [was based] on meticulous research, dredging up lethal quips of CNBC's stock pumping hosts to hang them with their own undeniable words — Jim Cramer's "buy buy buy" when the Dow was roughly double what it is today, his touting of Bear Stearns' and Bank of America's doomed stocks. The kind of research that's so hard for most newspapers to do anymore, with downsized staffs and ever-looming deadlines, but which can so often belies the spin from our "accessible" sources.
So, good journalism is important. How about digital media?
To get programming out to as many consumers as possible, everyone from [new CEO Vivian] Schiller on down sees technology as the key. "We have to skate where the puck is going," she says (in what may be the first use of a hockey metaphor by an NPR CEO).
Wow. I almost forgot I was listening to the CEO of a mainstream news organization. So, how are NPR's efforts with technology going?
"The Giant Pool of Money" demonstrated how easily a strong NPR show can be repurposed as multiple digital streams. It has been downloaded as a podcast more than half a million times and spawned a thrice-weekly NPR podcast and blog, Planet Money, which are getting 1 million downloads and 400,000 page views a month, respectively.

But NPR's digital efforts are much broader. It was the first mainstream-media organization to enter podcasting and often has several programs in the iTunes top 10. An open platform introduced last year allows listeners to mix their own podcasts and otherwise play around with NPR content — one fan built an NPR iPhone app. And NPR is putting all of its editorial employees — every editor, producer, and reporter — through multimedia training, with support from the Knight Foundation. Traffic on NPR.org grew 78% from 2007 to 2008.
There are challenges here, though. NPR's previous CEO, Ken Stern, was pushed out for moving too quickly on digital initiatives, to the ire of member stations who pay dues to NPR for access to shows like Morning Edition and All Things Considered and see NPR's digital moves and associated brand-building as competition.
But those issues will get resolved. What's most important is that NPR sees digital media not as a threat – something to be ignored, fought, and derided – but as an asset, key to reaching its audience, and a centerpiece of future growth. That's the approach necessary for good decision making that should lead to continued success.
Image © 2009 Fast Company.