The City of Hoboken has hired M Studio, a branding and communications agency, to design a new brand identity for the City, and is soliciting input via an online survey:
The brand standards established through this project – including a logo, tagline, specified font families, and color palettes – will broaden the recognizability of the city while becoming symbolic of what makes Hoboken stand out from other cities in the New York Metro area. Upon the completion of the brand exploration portion of this project, Hoboken's new comprehensive brand identity will be applied to wayfinging materials such as unique signage, banners, touch-screen kiosks, murals, mosaics, and other innovative approaches to convey location and direction throughout Hoboken.
M Studio designed the brand identity system for Asbury Park, NJ: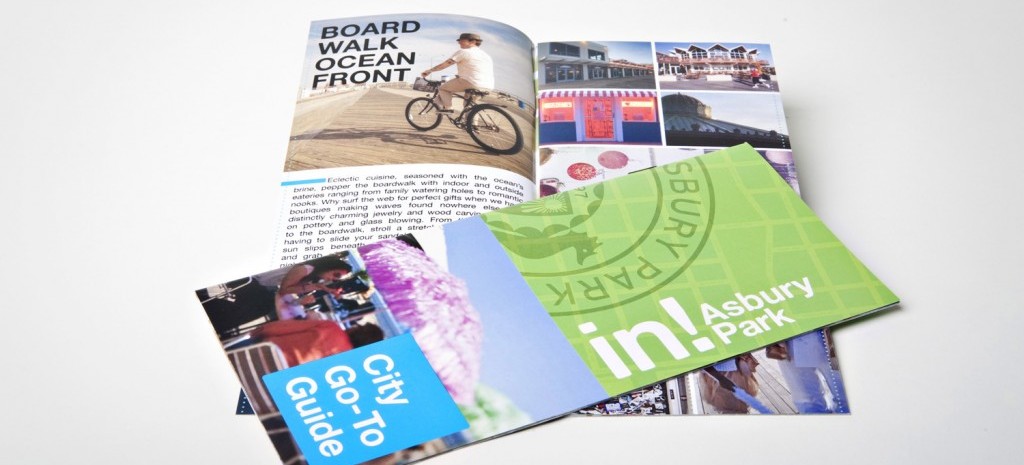 The new Hoboken branding will be used in a larger Citywide Wayfinding and First Street Streetscape Revitalization project that is funded by an $880,000 federal Community Development Block Grant for Disaster Recovery. The wayfinding system and streetscape improvements will be designed by T&M Associates:
"This is an important first step for Hoboken to create a more navigable city that promotes the use of all forms of transportation, including biking, walking, buses, rail, taxis and parking," says Jaclyn Flor, PE, PP, a Supervising Engineer and Planner with T&M and lead for this project. "The project will also establish a well-defined brand identity for Hoboken that captures and represents the unique attributes of the city."
Brand identity is an important placemaking tool for cities to convey their unique and important attributes, and present a consistent, recognizable presence to businesses, residents, and visitors:
The identity for Porto, Portugal's second largest city, draws on the blue and white tile prevalent throughout the city, and uses an interchangeable set of line drawings that can be paired with the wordmark to represent various city agencies and services:
The drawings themselves are also used to create striking background patterns for signage and advertising:
The brand identity for Eindhoven, a city in the southern Netherlands, consists of three red zigzag bands:
This brand appears crisp, strong, and complementary alongside other brands, e.g., businesses, regional and national governments, sports teams, public transit agencies:
Dutch design firms edenspiekermann and Thonik developed an identity system for Amsterdam based on the iconic Saint Andrew's Crosses:
The city is undergoing a major reorganization; the city districts and about 20 services and companies disappear in their current form. Therefore, the city has to align and unify its identity system and adopts one single logo for everyone. Ultimately this operation will save money. As we're all going to use identical letterheads and envelopes we can purchase them in larger quantities for less money. There will also be just one fleet marking design which enables us to use our vehicles wherever they're needed in the city.
The new brand (right) requires less horizontal and vertical space than the previous design (left), removes font size inconsistencies, and provides a consistent space below the "Gemeente Amsterdam" wordmark to accommodate an agency, district, or service name:

When the new identity system was revealed, several Dutch media outlets criticized the work as nothing more than a line break for €100,000, without understanding that a brand identity is much more that just a logo, and the aim of the Amsterdam project was to build an entire identity system based on the logo. Edo van Dijk, co-founder and creative director of edenspiekermann, wrote an insightful explanation titled "It's not the logo", which shows how the firm took the 40+ disparate visual systems and assets it encountered at the outset, and developed a single identity system with consistent grids, guides, visual assets, and applications, e.g., printed material, signage, city vehicles.
A new brand identity for the State of Colorado plays on one of the state's most recognized natural features: the snow-capped peaks of the Rocky Mountains:


Armin Vit, editor of Brand New, notes that a common criticism of destination and place brands is that they don't necessarily represent every nuance and detail of the place:
The new logo makes an immediate impact: it's simple, easy to remember, bold, and it says Colorado right away. Does it encompass all the nuances of the state? No. No single destination logo does that. A lot of the complaints are that the logo looks like a road sign — well, that's perfect, isn't it?