I published the New York & New Jersey Subway Map as a proof-of-concept to demonstrate how a single map could give people a comprehensive, harmonized view of the transit options available throughout the region. It is based on the design of the New York City Subway Map, one of the most recognizable transit wayfinding tools in the world, and incorporates subway, light rail, regional and intercity rail, and ferry services. Tens of thousands of riders now use the New York & New Jersey Subway Map to help them navigate the NYC metro area.
The precedent for thinking about the New York & New Jersey region in a unified way parallels its rise as an economic and transportation hub in the early 20th century. In its 1917 ruling in the New York Harbor case, the Interstate Commerce Commission declared, "Historically, geographically, and commercially New York and the industrial district in the northern part of the state of New Jersey constitute a single community." The ICC's decision spurred the creation of an independent government entity in 1921 to replace the fractious rule of the private railroads over the port district. A century later, the Port Authority of New York & New Jersey also operates the region's airports, bus terminals, bridges & tunnels crossing state lines, and the Port Authority Trans-Hudson (PATH) subway connecting New York & New Jersey.
The subway maps created to help people navigate the new transit systems built throughout New York City included the Hudson Waterfront and transit connections between New York and New Jersey. Although the Hudson & Manhattan railroad (the precursor to PATH) was still under construction and revenue service wouldn't begin until 1908, the 1906 Interborough Rapid Transit (IRT) map showed the New Jersey waterfront, with Hoboken and Jersey City labeled, and ferry routes connecting NY & NJ.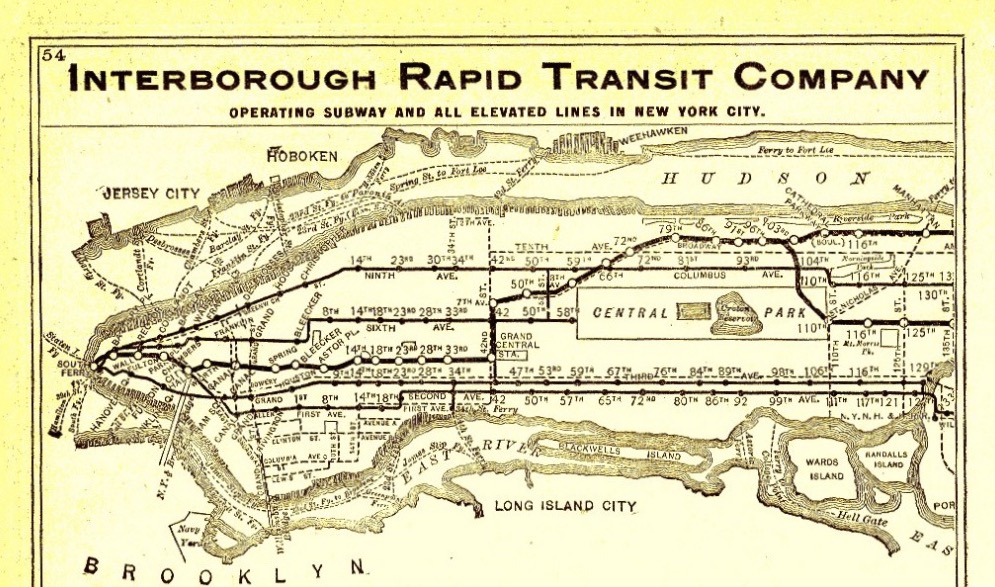 After the IRT, BMT, and Independent Subway System (IND) were consolidated into a single system, the 1944 NYC Board of Transportation map included the Jersey City waterfront, with the H&M lines labeled "Hudson Tubes (to Newark)", the system's stations in Manhattan, and Exchange Place station in New Jersey. Continues…