Ground was broken on January 28th, 2016 for a 900-foot-tall residential tower in Jersey City, at 99 Hudson Street. The tower will be the tallest in both Jersey City and New Jersey, and it is located at the Exchange Place transit hub, with PATH subway, Hudson-Bergen Light Rail, and ferry service within two blocks. Future residents will have multiple transit options, and commute times ranging from 5-10 minutes to Downtown Manhattan, and 15 minutes to Midtown.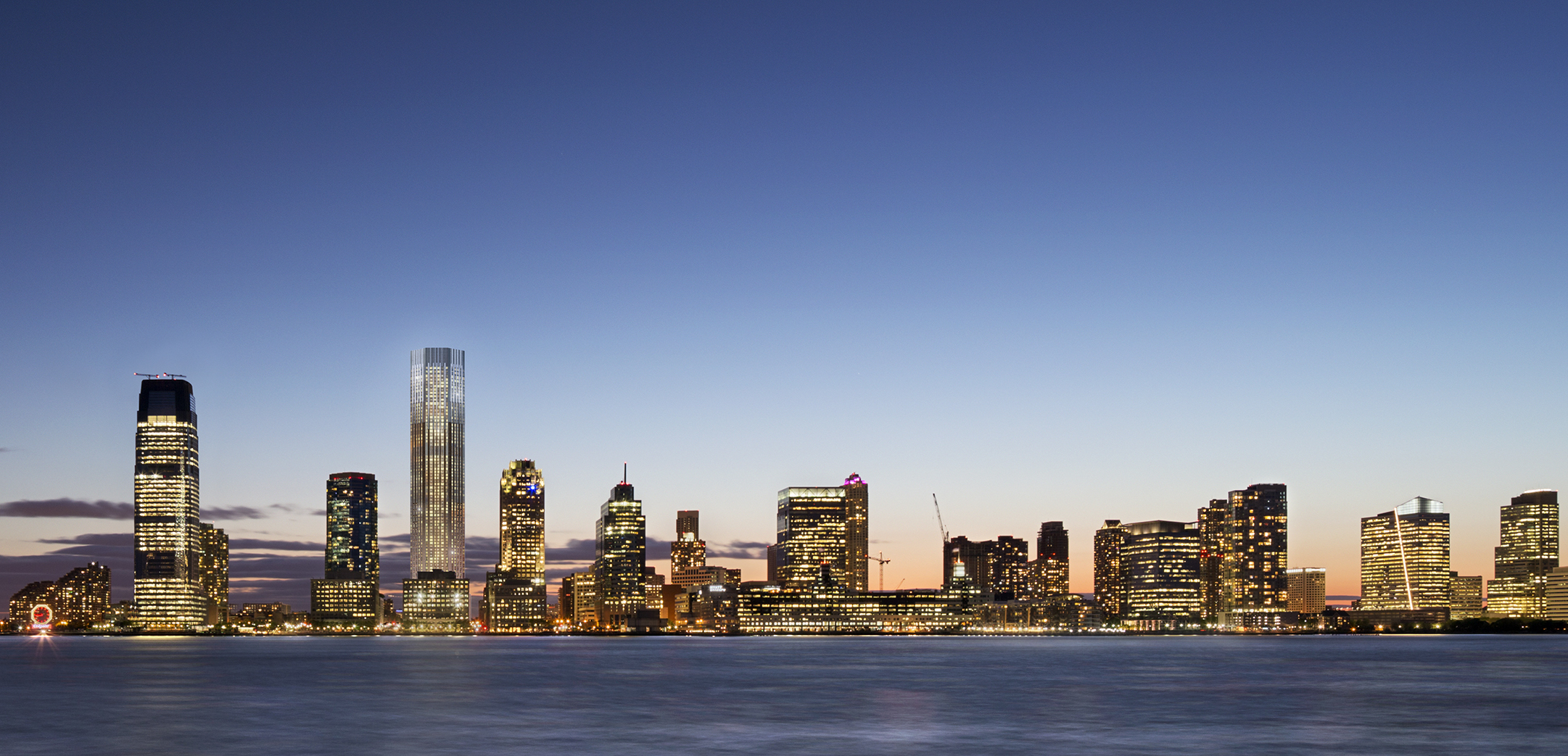 According to a press release issued in January 2015 from Jersey City Mayor Steven Fulop's office, the tower would contain 760 condominium units. A residential project of this size reflects the growing interest in urban neighborhoods in close proximity to Manhattan, and this project adds significant momentum to the already robust residential development on the Hudson Waterfront that in 2014 surpassed the previous peak seen in 2008.
As New York YIMBY's Nikolai Fedak reports, the building's design at street-level is a significant improvement over other Jersey City towers.
The development also learns from past planning mistakes (which can be painfully seen in Newport) regarding the practice of having high rise towers atop bulky parking garages. 99 Hudson is required to have residential units wrap around much of the parking structure to hide it from important street views.
A rendering from China Construction America shows how the proposed tower would meet the street, as seen from the corner of Grand and Greene Streets.
A new tallest-building in Jersey City is an indicator of the city's growing prominence, and excitement about it is good for local pride, but as architecture critic Sarah Williams Goldhagen says, a high-rise building needs to function as well at ground-level as it does on the skyline.
Since it stands so prominently in the cityscape, a high-rise building's audience includes not only the people who use it, but the many more people who regard its exteriors from a distance, which requires that the architect design for at least two completely different scales, the meta-scale of the urban skyline and the embodied scale of the pedestrians who walk by the building or enter it from the street. A part of the success of the Empire State Building is owed to its impressive presence on the Manhattan skyline, while its base is so deftly proportioned to the pedestrian that, walking by it on 34th Street, you barely know a tall building is there, much less a building that was "the tallest in the world" for so many years.
Another rendering from the developer depicts an aerial view of the building relative to its neighbors, including 30 Hudson Street, currently the tallest building in Jersey City at 781 feet.